Triathlon Holidays In The Alps
Morzine and Les Gets and the surrounding mountains provide a dream canvass for triathlon training. Breathe in the fresh alpine air whilst you run, swim in crystal clear waters and ride some of the most famous road biking cols in the world. With an endless choice of routes that take in stunning views of majestic mountains including Mont Blanc, you really will feel like you're on top of the world when you're training here.
Trail running is really growing in popularity in Morzine and Les Gets with hundreds of amazing routes marked out for athletes. These routes will take you high into the mountains along shaded tracks that pass through the woods and forests, they'll take you deep into the meadows and around lakes and pools that you wouldn't normally find. Running here is great if you want to improve your hill work however there are some really good, flat runs as well if you're looking to develop your speed and practice your transitions.
Swim training in Morzine can take place in the outdoor Olympic size pool or the 25m indoor pool. You can also and practice your open water swimming in the bright blue waters of Lake Montriond or the smaller lake at Les Gets. Lake Geneva is only 30 minutes from Morzine and has some great swimming options. There's an amazing outdoor swimming pool complex on the shore of the lake alongside numerous free beaches from which you can access the lake from. A wetsuit is advisable in May and June but in the summer Montriond lake reaches about 19 degrees and Lake Geneva is even warmer. Lake Montriond is a kilometre long so an ideal distance for building up some stamina without being too intimidating.
In terms of biking we are very spoilt with some of the most famous road bike routes in the world on our doorstep. The Tour de France often makes an appearance in Morzine which is testament to the incredible landscape and road cycling terrain we have. If you are training for an event or just wanting to really increase your fitness level then have a go at tackling some of these challenging ascents: Col de Joux Plane, Col de la Ramaz and Col de Joux Verte. These are just some of the well known Cols in the Morzine and Les Gets area but there are many more local routes for you to enjoy. We can advise on which are quiet in terms of traffic and which offer amazing views and varied riding. You could ride here for weeks and not get bored, but you would get fit!
It's no real surprise that Morzine and Les Gets are havens for triathlon training and are used by some of the world's best athletes as a training base. The number of events taking place in the region has increased dramatically over the last few years which means there's loads for all abilities to get involved in. Local triathlons such as the Mont Blanc Triathlon at Lake Passy has such an amazing setting with the lake framed by the white peaks of Mont Blanc. Annecy Triathlon and Thonon Triathlon (which starts from Lake Geneva) are also in stunning settings. Then look out for the challenging Evergreen Endurance triathlon which really is right on our doorstep. It starts at Lake Montriond and finishes in Chamonix.
We have 5 years of experience putting together Triathlon holidays so can advise on running trails, cycling routes and where to swim. We can also book lanes at the local pool and help you with bike hire. If you need vehicle support for groups who want accompanied riding we can also help with that. If coaches who are bringing large groups to resort and would like any other support then please just ask! We have a huge choice of self-catered chalets and apartments that suit groups from 2-4 people up to 16. If you want to concentrate on the training and not worry about the food then why not look at booking a catered holiday with Reach4thealps? We can bring in our chefs and offer a fully catered package tailoring nutrition to suit the needs of the athletes.
All of our properties have secure storage for bikes and a lot also have a sauna and an outdoor hot tub. This means you'll be able to enjoy some well earned relaxation whilst easing those aching muscles. We work closely with Mountain Rehab a company which offers pilates and yoga clasess as well as physiopherapy. We can organise for a Mountain Rehab masseuse to come to your chalet to give you a sports massage to further help the recovery process!
Self Catered Apartments
We have a range of smaller self catered apartments, sleeping up to 11 people, in the Morzine and Les Gets area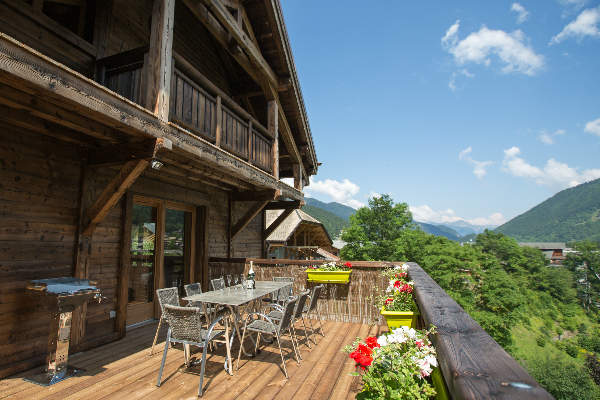 Self Catered Chalets
We offer a selection of larger self catered chalets in Morzine, sleeping between 12-15 people
Fantastic Activities Throughout The Summer