About Reach4TheAlps
The hard working team at Reach4TheAlps
Reach4thealps is owned and run by Gina and Marcus Ewart. Both from Scotland, they were lucky enough to learn to ski as kids in Glenshee (Gina) and Cairngorms (Marcus) and still to this day argue over which resort is best!
Gina did a ski season in Chamonix cooking when she was 20 and caught the ski bug and love for the mountains. While they both had "proper" jobs they always missed the mountains and continually talked about moving to the Alps. They ended up working their first season together in Morzine and fell in love with the Portes Du Soleil area. The company name was dreamed up in All Bar one in Leicester Square, London with a group of friends and Reach4thealps was launched in summer 2002. They welcomed the first guests to Chalet Sol Re in December 2002 after lots of DIY, curtain making and trips to Ikea!
They successfully ran Chalet Sol Re for 2 years and then started to expand little by little and in the 10 years since have grown to having a portfolio of 9 catered and 8 self-catered properties between Morzine and Les Gets. In between all that they somehow managed to fit in getting married and having 2 kids in the process!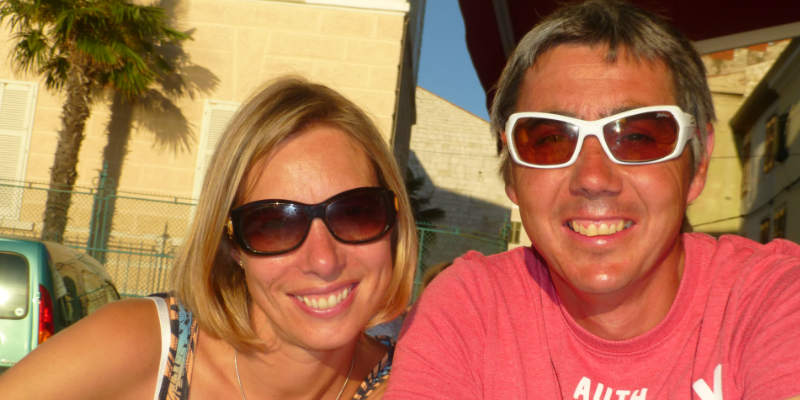 Office Manager
Jane Swann
Jane took a sabbatical from a professional career and headed off on a once in a lifetime trip around the world. After many months of adventure, Jane finished her trip with a winter season chalet hosting in Chalet Martinet. During this time Gina & Marcus had their 2nd baby and were running out of hands! Jane suggested that maybe they should hire a Resort Manager (she had someone great in mind!) and the rest, as they say, is history.
10 years on, Jane handles everything from logistics to the end of year accounts and makes sure everyone is in the right place at the right time, including Gina & Marcus! In summer, Jane enjoys hiking, road biking, mountain biking, swimming & running!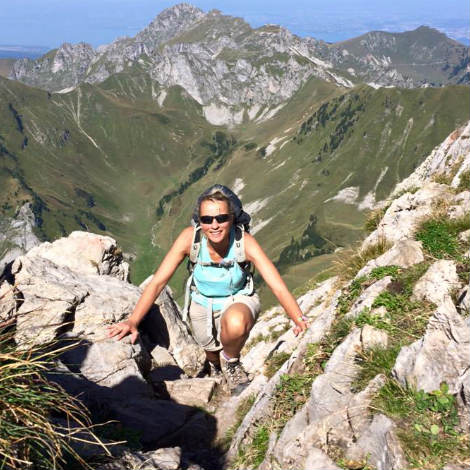 Transport & Maintenance Manager
Lee Collier
Lee has been with us over 8 years and we really could not manage without him. Lee is 'Master Fixer' of all things maintenance related and has saved the day on more occasions than we dare count! Lee is also a driver for us in the winter so you'll see plenty of him in resort.
After realising his passion for skiing in his early teens, Lee spent the following years in various job roles from Product Engineer at Nissan GB to Project Manager on several housing projects before deciding his heart belonged in the mountains. In the summer Lee is a very keen mountain biker & also enjoys hiking, road cycling & motorbiking!
Sales & Marketing Manager
Alice Gregr
Alice took a career break from working as a BBC Journalist in Manchester and never looked back. After spending a year in the mountains, her and her partner Brian, decided that this was the place for them.
They now enjoy life in Morzine with their dog, Vince and their cats Alfie and Kipper. They also share their home with a hoard of bikes, boards, skis and trail running shoes! Alice has joined the Reach team on the sales and marketing side of things so you're likely to speak to her at some point. Morzine is a million miles away from Manchester however Alice is loving every minute of the mountains!
Chalet Manager, Winter
Sian Williams
Sian has been a member of the Reach4thealps team on and off for the last few years and we're thrilled to say she's coming back this winter! In the past she's been a host but now she looks after the day to day running of the chalets during winter as our Chalet Manager. Sian is a professional swimming coach and has even swam the channel so as you can imagine she's got heaps of energy and enthusiasm! She's also a great cook! We know the chalets are in safe hands with her.
Hannah and James
Host at Chalet Chouette and Driver/Chalet Helper for Chalets Hibou and Chouette
Having both just graduated from the University of Edinburgh with degrees in geology, James & Hannah joined the Reach team for the summer 2017 season. They had a great time and are looking forward to staying on over the winter season working and skiing hard in Morzine. After making the most of the Portes Du Soleil in the summer: cycling, walking or barbecuing, they can't wait to explore this massive playground in the snow.
Sean Lorrigan
Driver/Chalet Helper

We're pleased to say Sean is returning to do his second winter with Reach4thealps. He is no stranger to the tourist industry and looking after clients having worked for many years in Fuertaventura as a resort representative. He is a colourful character and has had many interesting hobbies and jobs, from taming sea lions to getting his pilots licence, to a passion for restoring vintage cars. Sean has got many a tale to tell (which will no doubt help pass the time in the transfer van between Morzine and Geneva) and is always smiling. We can't wait to welcome him back for winter 2017/18.
Amelia
Host, Chalet Alouette

Amelia is a reacent 3D design and craft graduate but has always wanted to explore her passion for food and baking. She has spent her summer interning for a multi-scensory experience design studio in London and is excited to swap the city life for the snowy Alps. After her season she plans to go back to "making" in her studio. 
Helen and Phil
Hosts, Claire Vallee

Helen and Phil have always loved the mountains and a few years ago gave up professional careers, a 9-5 lifestyle and followed their dream of working in the mountains and doing a ski season. They're now addicted! After 3 seasons in La Tania, 3 Valleys they are now looking forward to exploring a new resort on foot and on skis. Their summers see them working as campsite wardens in the UK and in their time off between seasons they love to go traveling – for 2017 it's New Zealand!
Celia and Stu
Hosts, Cairn Lodge

Celia and Stu have wanted to do a ski season ever since they first went skiing. With great joint experience in the hospitality sector (Celia has run her own award winning cake business and Stu has years of front of house and kitchen experience), they are both really committed to providing a fantastic service and are really looking forward to meeting the guests and welcoming them to Cairn Lodge.
Kitty and Steve
Housekeeping

Steve is a carpenter and has been skiing since he was a child, whereas Kitty (working in administration) has never set foot on skis before! The pair live together in Plymouth and decided to do a ski season together so that they can (hopefully!) be on a similar level by the end and go on ski holidays in the future. They also can't wait for a change of scenery and to experience life on the mountains!
Sam
Driver/Chalet Helper

Even as a relative latecomer to snow sports (one unsuccessful school skiing trip aside), Sam quickly realised that there's no place that can compare with being in the mountains. So, after an 18-year career in the financial services industry, Sam has decided that there's more to see in the world than a computer screen from behind a desk! He's now looking forward to a winter with like-minded souls.
Callum
Driver/ Chalet Helper

Callum has recently graduated from uni where he studied environmental science. While there he was a big part of the university tennis squad. He has been skiing for a few years now starting out on a dry slope at home then in Italy and Andorra, so he's excited to see what France has to offer!
Spending a season in the mountains is something he's always wanted to do- the thought of skiing everyday whilst meeting lots of great people really appealed to him! He can't wait to meet everyone soon!
Alex
Host, Chalet Hibou

32 year old Alex is no stranger to the hard work of being a chalet host. He worked as a cook/host for a season in Meribel and for the past 3 years has been working as a cook / sailor / mechanic on a classic yacht in the Caribbean. He's excited to be back on dry mountainous land again working as the host at Chalet Hibou and is excited to get out snowboarding!
Connor and Harli
Hosts, Brown Bear Lodge

Connor and Harli are relatively new to skiing but it all started for them when they came on holiday to Morzine and stayed with Reach4thealps at Cairn Lodge. Ever since then they've dreamed of doing a season and here they are! Connor has had many years of experience working as a chef in many different high-end restaurants and Harli also has over 8 years of experience working in the hospitality industry. They're looking forward to working together as a couple in the lovely surroundings of Brown Bear Lodge.
Jonty
Host, Chalet Les Gets

Jonty was born in Kenya and spent the first 12 years of his life in Nairobi. He completed his education in the UK, at Newcastle University, where he recently finished both his BSc ( Biology and Psychology) and MSc (Ecology) Degrees. He is passionate about food, sports, wildlife, and the great outdoors and is excited about learning to ski this season. He also can't wait to meet new people and take a break from the monotony of studying before pursuing his chosen career in Ecology and Conservation Biology.
Kirstie and Fraser
Hosts, Chalet Aux Joux

Having recently graduated from university with a degree in tourism and hospitality management, Kirstie can't wait to put her knowledge to good use in the kitchen! After having skied a lot when she was younger, she can't wait to get back on the mountains and improve her techniques so (in her words) "I no longer look like Bambi on ice". Fraser is a recent university graduate who is looking forward to swapping the student study room for the glorious Alps. Living and skiing in the mountains has been a dream of his since he started skiing and he is very excited to be fulfilling this dream with R4TA this season. During his time off the slopes he likes to read, stay fit and follow SpaceX and their missions to the great beyond. They're both looking forward to meeting you in Chalet Aux Joux and making sure you have a great week of skiing!
Jack
Driver, Chalet Helper

Jack is 23 & a surfer and lifeguard from Croyde, North Devon. Born and raised on the beaches, he has travelled the world following the surf and the sun. He has been snowboarding since he was 10 & naturally this has encouraged him to want to spend his winters in the mountains since an early age! This is his first winter in the Portes de Soleil and he cant wait to explore the legendary slopes!
He is looking forward to shredding, making lifetime friends and generally being stoked all winter. His first season in the Alps left him in awe, and now he cant wait for the good times to continue!
Hannah
Host, Chalet Martinet

Hannah is very excited to be joining Reach4theAlps for her first ski season. She recently graduated from University of the Arts London where she studied photography. While studying, Hannah worked part-time as a chef in a local restaurant in Elephant and Castle. When in London, she is a keen cyclist but will be substituting her bike for a pair of skis this winter. She also practices yoga and is passionate about food, art and sustainability.