About Reach4TheAlps
The hard working team at Reach4TheAlps
Reach4thealps is owned and run by Gina and Marcus Ewart. Both from Scotland, they were lucky enough to learn to ski as kids in Glenshee (Gina) and Cairngorms (Marcus) and still to this day argue over which resort is best!
Gina did a ski season in Chamonix cooking when she was 20 and caught the ski bug and love for the mountains. While they both had "proper" jobs they always missed the mountains and continually talked about moving to the Alps. They ended up working their first season together in Morzine and fell in love with the Portes Du Soleil area. The company name was dreamed up in All Bar One in Leicester Square, London with a group of friends and Reach4thealps was launched in summer 2002. They welcomed the first guests to Chalet Sol Re in December 2002 after lots of DIY, curtain making and trips to Ikea!
They successfully ran Chalet Sol Re for 2 years and then started to expand little by little and in the years since have grown to having a portfolio of catered and self-catered properties between Morzine and Les Gets. In between all that they somehow managed to fit in getting married and having 2 kids in the process!
Jo is our Ops Manager who started working with us in winter 2019/20. Between working as a host on board catamarans in Greece and Croatia, Jo had been coming to Morzine on holidays and working in chalets for the past few years. Her love of skiing and mountain biking makes Morzine the perfect place for her to live, and she is really happy to be a part of the Reach 4 The Alps team!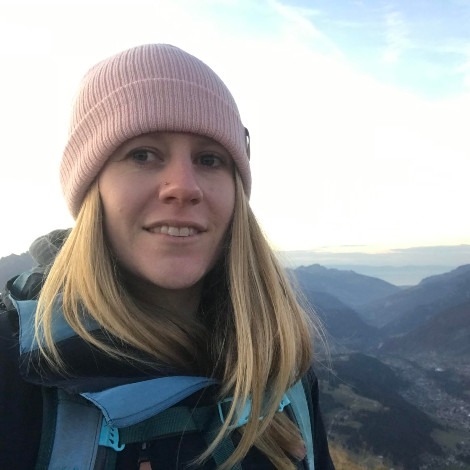 Helen & Phil
Chalet Hosts, Ferme de la Coutettaz
Helen and Phil have always loved the mountains and a few years ago gave up professional careers, a 9-5 lifestyle and followed their dream of working in the mountains and doing a ski season. After 3 seasons in La Tania & 3 winter seasons with us at Chalet Claire Vallee and Ferme de la Coutettaz, they're now in Morzine for good! You'll find them hosting in the winter and taking care of our chalets and gardens in the summer. They're an integral part of the Reach team and we don't know what we'd do without them!
Adam joined Team reach in Winter 2021/22 after settling in Morzine with his partner Sian (not pictured!). A keen outdoorsman, Adam is usually to be found up a mountain be it on foot, wheels or snowboard! For Reach4thealps , he will be taking care of our 'fleet' of vans going forward, so you'll hear from him or meet him if you are using our Transfer Service. As with all our team, we like to get stuck in every where so he may even have a cloth or screw driver in hand when you meet him.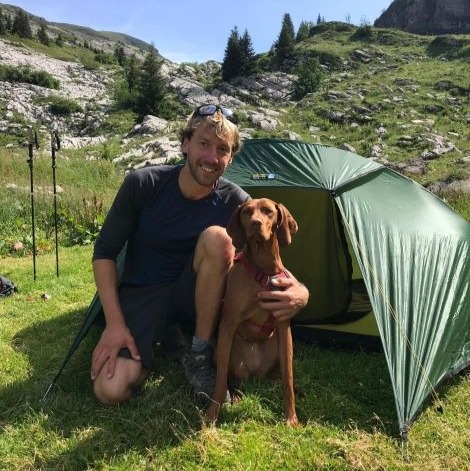 Amanda
Host, Chalets Hibou & Chouette
We welcome Amanda back for her 2nd season with Reach4thealps! Guests will remember her always bubbly, positive nature, fabulous food and beautiful smile. Chalets Chouette & Hibou are in good hands this winter with Amanda.
Tilly
Host, Chalets Hibou & Chouette

As an outgoing, sporty, enthusiastic 21 year old, Tilly has spent the last 3 years serving in the Royal Air Force, playing tennis around the world and learning to fly light aircraft. A keen cook and a drive to become an accomplished skier, Tilly cannot wait to start a new adventure in Morzine working for Reach 4 The Alps as a Chalet Host. Bring on Winter 2022/23!
Welcome to Leanna, 1 of our fabulous Chalet Crew team!
Leanna has been snowboarding since she was 5 years old. Over the years she's spent a lot of family holidays in the Les Portes du Soleil area, which is one of the reasons she is so excited to join the Reach4TheAlps team in Morzine. Not only have she visited the alps in the Winter, Leanna's also ridden her mountain bike in Chatel and Morzine in the Summer. So she'll be a fountain of Morzine knowledge for all of our guests!
Leanna also has a keen interest in Motorsport and has raced competitively in a Karting series, across the UK, since she was 15. 
Ruby & Cooper
Hosts, Chalet Claire Vallee

Originating from Newcastle, Australia, Ruby & Cooper both have a strong passion for travel which made them decide in their late teens to head to Canada. From there, the travel bug subsequently caught and once they left Canada, they continued travelling by backpacking around Europe. Ruby & Cooper have since had trips to Japan but were rudely interrupted by covid's plan. They decided to settle into Newcastle and complete some studies whilst waiting for the time to pass until borders re-opened. They both have passions for snowboarding, food & wine, and hospitality. Ruby is currently working in the Hunter Valley in well-respected establishments and Cooper being a sales representative for all things imported cheese and meats.
Colin
Driver & Maintenance
Welcome back to Colin, who has now been one of our drivers for a Winter and Summer season. Colin's been settled in Morzine now for a few years so knows how to get you to the slopes quickly and efficiently! If he's not behind the wheel, you'll find him keeping our chalets in tip top working condition.

Dave joins us again this winter as one of our Transfer Drivers. Dave has been in Morzine & Les Gets for quite a while now so knows the ins and outs of the roads. When he's not transferring guests up the mountain, you'll find him on his sail boat down on Lake Geneva!
Simon & Pav
Hosts, Brown Bear Lodge
At Brown Bear Lodge will be Pavlina (Czech) and Simon (UK). They are self described as 'international nomads with a love of the snowy mountains and winter vibes'. Snowboarders by trade but they don't discriminate against skiers ;)..honestly!! Having lived in both Canada and New Zealand for many years Simon & Pav are seasoned to the winter life and can't wait to give you all the helpful hints, tips and tricks to help you have your trip of a lifetime here in the Alps.
Imogen grew up on a farm in the Yorkshire Dales and spent her childhood climbing trees, riding horses, pot holing and rock climbing. She's taking time out from her nursing degree to travel and is looking forward to improving her French. She's always been sporty and was a keen swimmer and diver.  Imogen is relishing the chance to develop her skiing this winter and get some off piste experience under her belt.
Bella & Cam have been living in various locations on the East Coast of Australia for most of their lives and get amongst all it has to offer including surfing, hiking, climbing, sailing, camping, art, music and Architecture.  Cam has done two winter seasons in Canada (Banff) and France (Chamonix), and is super keen to enjoy another!  Bella is fairly new to the skiing lifestyle and has enjoyed the Aussie alps several times over the years, ready for something bigger!  They're both keen to take a break from their full time Architectural careers and give some attention to their other desires of enjoying the outdoors full time, alongside furthering their creative outlets.  Bella & Cam are both passionate about the environment, sustainability and community on various levels and this plays a big role in their lives.
Another of our invaluable Chalet Crew, Katy! She has grown up and lived in the countryside of Scotland and has been a keen horse-rider since a very young age.
Other hobbies include walking her dogs, water skiing in the summer and of course, it goes without saying, skiing in the winter. Katy has skied since she was around 10 and has visited Morzine once before on a family holiday and loved it! She is now taking a break from working in Human Resources and hopes to learn a wee bit of snowboarding this season where possible!
Another of our Chalet Crew team is Jenny! She took a year out from her career in supply chain to do her 1st season in Les Gets last year, and loved it so much she decided to come back! Jenny started ski touring last season and really enjoys hiking in the winter and summer and exploring the mountains.
She loves to sail, SUP, ski, hike and generally anything involving mountains or the sea. Jenny has also started sea swimming this year and is trying to learn to love the cold water!
Random fact: Jenny is a guinness world record holder at knot tying!
Becky graduated from University of Leeds this summer and is keen to improve her snowboarding in Morzine this winter. She loves to stay active, whether it be running, snowboarding or hiking, and has a strong passion for cooking. Becky is already so excited to look after guests in our chalets this winter, and to be a part of Team Reach on her first ski season in the Alps.
Josh & Esme
Brown Bear Lodge Chef & Resort Manager
Esme and Josh both grew up in Cornwall, and the two of them have an utter passion for food and travel.
 Esme has been cooking for and travelling with a family for the past four years which has got her hooked on exploring new places, especially in a post covid world; as well as growing her passion for cooking.
 Josh, has been working as a chef since leaving school and is head chef in the Brown Bear Fine dining lodge where he's looking forward to impressing guests with his menu.  He has done a season in Les Gets but it was cut short due to covid… no doubt he'll be making up for lost time on the slopes!
 Both of them are really looking forward to improving their skiing this winter.