About Reach4TheAlps
The hard working team at Reach4TheAlps
Reach4thealps is owned and run by Gina and Marcus Ewart. Both from Scotland, they were lucky enough to learn to ski as kids in Glenshee (Gina) and Cairngorms (Marcus) and still to this day argue over which resort is best!
Gina did a ski season in Chamonix cooking when she was 20 and caught the ski bug and love for the mountains. While they both had "proper" jobs they always missed the mountains and continually talked about moving to the Alps. They ended up working their first season together in Morzine and fell in love with the Portes Du Soleil area. The company name was dreamed up in All Bar One in Leicester Square, London with a group of friends and Reach4thealps was launched in summer 2002. They welcomed the first guests to Chalet Sol Re in December 2002 after lots of DIY, curtain making and trips to Ikea!
They successfully ran Chalet Sol Re for 2 years and then started to expand little by little and in the years since have grown to having a portfolio of 5 catered and 14 self-catered properties between Morzine and Les Gets. In between all that they somehow managed to fit in getting married and having 2 kids in the process!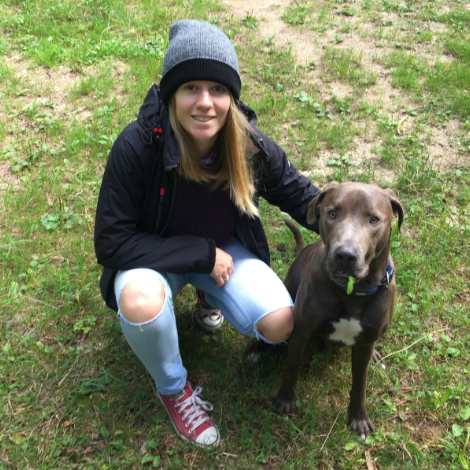 Jo is our Resort Manager who started working with us in winter 2019/20. Between working as a host on board catamarans in Greece and Croatia, Jo had been coming to Morzine on holidays and working in chalets for the past few years. Her love of skiing and mountain biking makes Morzine the perfect place for her to live, and she is really happy to be a part of the Reach 4 The Alps team!!
Suzi
Marketing & Sales Manager
Suzi is the latest addition to the Reach Team, and joins us as Marketing and Sales Manager from September 2021.  Over 15 years ago she came out with her husband to do 2 seasons in Chatel, to escape the Irish winters, and loved it so much that they set up their own catered chalet company, and has continued to work in the tourism industry.  She loves skiing and ski touring, which keeps her busy in the winter.  For the rest of the year she can be found either sailing on Lake Geneva or hiking the local mountains.
Welcome to Team Reach, Katy! Katy has been skiing since the age of 5 and has always loved being in the mountains. She did 2 seasons as a chalet host in 2016-18 and after a 3 year break spent working in bars and pubs in the UK and Australia she's keen to get back to the snow! Katy has a degree in zoology and love of the sea and is a qualified scuba diver, so when she's not in the mountains she can be found travelling the world to explore new dive sites.  We're confident our guests are going to be in good hands this winter.
Helen & Phil
Chalet Hosts, Ferme de la Coutettaz
Helen and Phil have always loved the mountains and a few years ago gave up professional careers, a 9-5 lifestyle and followed their dream of working in the mountains and doing a ski season. After 3 seasons in La Tania & 3 winter seasons with us at Chalet Claire Vallee and Ferme de la Coutettaz, they're now in Morzine for good! You'll find them hosting in the winter and taking care of our chalets and gardens in the summer. They're an integral part of the Reach team and we don't know what we'd do without them!
Millie
Chalet Host, Hibou & Chouette

Millie will be joining the Reach4thealps team as a Chalet Host at Hibou and Chouette this winter. Previously having done a ski season in Les Arcs before heading off to university, she's been wanting to do another ever since! A keen skier and cook, Millie is excited to be joining us in Morzine once she's finished wowing guests with her culinary skills in Scotland.
Mike & Kasia
Chalet Hosts, Claire Vallee
We are thrilled to have Mike & Kasia in the Reach4thealps team this winter! Mike & Kasia have an abundance of hosting experience, and they cannot wait to welcome you to Claire Vallee to experience their amazing food and hospitality. Having lived and worked in Africa and Portugal, their love of cooking has grown, and they're excited to do their first ski season with us here in Morzine.
Alanah,
Driver/Helper, Hibou & Chouette

Meet Alanah. This will be Alanah's first ski season, so we're excited to show her what it's all about! From the west coast of Ireland, you'd normally find Alanah in the ocean either wakeboarding, surfing or swimming. She's also an accomplished chef, so we're confident our guests will be in good hands with her!
Amanda
Chalet Host, Hibou & Chouette

Amanda has skied in the Alps for over 35 years and having had the absolute best ski holidays with Reach4theAlps is making the switch from guest to employee to become a Chalet Host and cannot wait to join the team!  Following her passion for cooking and entertaining Amanda has combined working in the corporate world in HR with catering for a vast range of occasions for over 30 years, including catered fund raising events and birthday celebrations. Being a lover of the outdoors and keen skier, Amanda can't wait to spend the season in the Morzine.
Mick
Driver/Chalet Helper

Mick is finally taking up the opportunity to leave the 9 to 5 life and pursue his teenage dream of living in the Alps and working a ski season. Years of house renovating, DIY and a love of driving will undoubtedly be handy to the team! He is looking forward to replacing his running shoes with ski boots and brushing up on his skiing skills!
Ricardo
Chalet Host, Cairn Lodge

8 years ago Ricardo decided to leave his home country, the Netherlands, and work a summer in France. Since then, he has done multiple summer seasons around Europe before going to La Tania for his first winter season, where he fell in love with the winter! In between seasons, Ricardo has travelled to India, Asia, America and last year made his way to Canada, spending a whole year living in the mountains. Ricardo is  keen to see what Morzine has to offer and is very excited to do a season with Reach4thealps!
Ciaran
Driver/Chalet Helper

Ciaran hails from Galway in the West of Ireland, he describes himself as always on his feet, be it going for runs with the dog or lifting weights in the gym. He loves playing rugby, and has played for 13 years! As a qualified fitness instructor and big into sports in general, he can't wait to give skiing a go for the first time this winter.