About Reach4TheAlps
The hard working team at Reach4TheAlps
Reach4thealps is owned and run by Gina and Marcus Ewart. Both from Scotland, they were lucky enough to learn to ski as kids in Glenshee (Gina) and Cairngorms (Marcus) and still to this day argue over which resort is best!
Gina did a ski season in Chamonix cooking when she was 20 and caught the ski bug and love for the mountains. While they both had "proper" jobs they always missed the mountains and continually talked about moving to the Alps. They ended up working their first season together in Morzine and fell in love with the Portes Du Soleil area. The company name was dreamed up in All Bar One in Leicester Square, London with a group of friends and Reach4thealps was launched in summer 2002. They welcomed the first guests to Chalet Sol Re in December 2002 after lots of DIY, curtain making and trips to Ikea!
They successfully ran Chalet Sol Re for 2 years and then started to expand little by little and in the years since have grown to having a portfolio of 5 catered and 14 self-catered properties between Morzine and Les Gets. In between all that they somehow managed to fit in getting married and having 2 kids in the process!
Jo is our Ops Manager who started working with us in winter 2019/20. Between working as a host on board catamarans in Greece and Croatia, Jo had been coming to Morzine on holidays and working in chalets for the past few years. Her love of skiing and mountain biking makes Morzine the perfect place for her to live, and she is really happy to be a part of the Reach 4 The Alps team!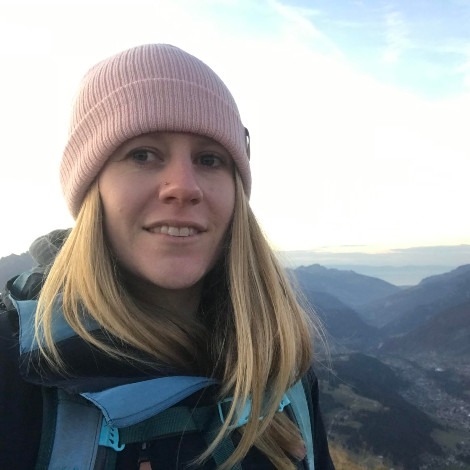 Helen & Phil
Chalet Hosts, Ferme de la Coutettaz
Helen and Phil have always loved the mountains and a few years ago gave up professional careers, a 9-5 lifestyle and followed their dream of working in the mountains and doing a ski season. After 3 seasons in La Tania & 3 winter seasons with us at Chalet Claire Vallee and Ferme de la Coutettaz, they're now in Morzine for good! You'll find them hosting in the winter and taking care of our chalets and gardens in the summer. They're an integral part of the Reach team and we don't know what we'd do without them!
Adam joined Team reach in Winter 2021/22 after settling in Morzine with his partner Sian (not pictured!). A keen outdoorsman, Adam is usually to be found up a mountain be it on foot, wheels or snowboard! For Reach4thealps , he will be taking care of our 'fleet' of vans going forward, so you'll hear from him or meet him if you are using our Transfer Service. As with all our team, we like to get stuck in every where so he may even have a cloth or screw driver in hand when you meet him.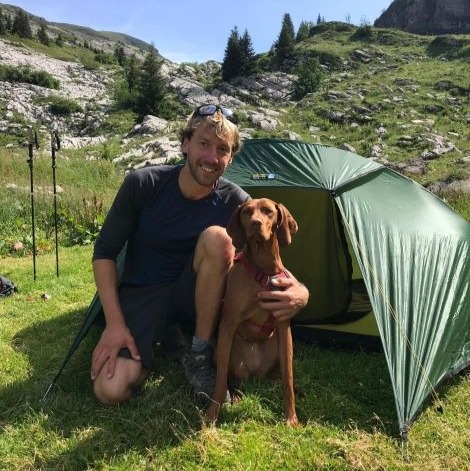 Sacha & Kathryn
Housekeeping
​Sacha recently graduated from the University of Leeds, and Kathryn left her life guarding job, both on the hunt for something new and ended up working as au pairs during the winter season in Morzine, which they really enjoyed. Sacha & Kathryn absolutely loved Morzine and upon returning home to Ireland realised they wanted to be back for the summer. Both keen snowboarders, they are now looking to give mountain biking a go… or maybe will just stick to the much safer paddle boarding and hiking!
Welcome to Conn from Ireland!  He has worked in the United States and various parts of Europe, the most recent being a ski season in Val d'Isere, FR. He is taking a break from starting a career as a software engineer to pursue jobs and travel around the world. The things he loves to dedicate time to is reading, hiking, socialising, travelling and horticulture. Talk to him about any of these marvelous things over a good pint and that is where he describes himself as 'the best version of himself'!
We also welcome Antonella, a traveller from Argentina. After living in Italy for 6 months she did her first winter season as a Chalet Host in Morzine and discovered snowboarding, which she describes as an incredible experience. As a nature lover, Antonella can't wait to return to Morzine and spend the summer picnicking in Montriond Lake and hiking the local mountains.
Next up is Uma, who was born here in Morzine and has grown up in the valley, she enjoys spending time outside, especially when it's autumn. Uma is about to begin a new year at a university in Chambéry in the hopes of pursuing studies in art and fashion.
She is obviously very familiar with Morzine and has enjoyed playing ice hockey, skiing and snowboarding for a few years within the commune. Her other hobbies include drawing (a lot), ice skating, messing around with clothes and spending hours flipping through the pages of harajuku and punk fashion magazines.