Morzine is a beautiful, bustling alpine village in the heart of the Portes du Soleil. It's a fantastic place to visit in the summer with loads of incredible activities to try and fun for the whole family. In the winter Morzine is a popular ski resort, however in the summer it's home to mountain bikers, road cyclists, runners, hikers and people here to enjoy some of the best scenery in the world. At only 90 minutes drive from Geneva, Morzine really is the perfect place for a summer holiday.
Morzine Town Centre
Morzine is a tradtional alpine village full of wooden chalets and old stone buildings. In the summer hanging baskets full of colourful flowers line the streets of the town, making it truly picturesque. The village sits at the base of several mountains and boasts some of the best views in the Portes du Soleil. It looks down towards Lake Geneva, across to Mont Blanc and up towards the resort of Avoriaz. A river runs through the centre of town offering stunning, flat and easy walks with wooded views and shade from the hot summer sun.
Morzine is a popular town for downhill mountain biking with a lift system that takes you high up into the mountains to the huge network of tracks and trails of the Portes du Soleil. Similarly, the village is close to some of the most iconic road biking climbs. So whichever bike you like to ride, there's something for everyone.
The town centre is full of boutique shops, cafes, bars and restaurants and is great both in the day and the evening. The main street is also lined with delicatessens and bakeries meaning you'll have no problem spending a few hours wandering in and out of the shops.
Morzine Activities
There's no shortage of things to do in Morzine in the summer. The open air swimming pool with its large slide and splash pools for children is really popular as are the tennis courts. There's pony trekking, a ropes course and a carousel for the younger children with the older ones able to give downhill and cross country biking a go. Many activities are included on a summer multipass including tickets for the pedestrian lift network which means you can head high into the hills for gentle walks and amazing views. Montriond Lake is also a favourite and is only ten minutes drive from the centre of Morzine. If you like high adrenaline sports there's a host of white water activities to try too along with parapenting, canyoning and rock climbing.
Morzine Bars and Restaurants
There are bars and restaurants galore in Morzine, so there are plenty of places to go for a long relaxing lunch or a bite to eat in the evening. There are also a few lively evening bars too if you're looking for a bit of a night out. You'll find a lots of traditional french restaurants offering the tasty savoyard food that Morzine is so famous for. Think Fondue, Tartiflette and Raclette. A cheese lovers heaven! Some of our favourites include La Flamme, Le Clin d'Oeil, L'Etale and Le Grange.
Non traditional restaurants in Morzine
Morzine isn't just full of traditional restaurants, over the last few year's a number of places offering something different have been popping up all over the place. The Bec Jaune microbrewery serves its own beer brewed on site and has an eclectic food menu including noodles, wraps and salad bowls. The Bec Jaune has some great options for vegetarians and some delicious daily specials. Satellite coffee house in the centre of Morzine is also good if you're looking for a lighter lunch. It focuses on using organic world produce meaning its sandwiches, wraps and soups are very different to anything else you'll find in Morzine. Again, it's great for vegetarians too.
Mountain restaurants
If you're looking to get away from the town centre for a while and fancy finding something to eat up in the hills then there are a few "not to be missed" restaurants very close to Morzine. Why not head up the Pleney lift and walk across to the Vaffieu restaurant. It's a beautiful swiss style chalet with panoramic views of Mont Blanc and Morzine. The lively atmosphere and stunning sun deck also makes it extra special. Another restaurant that's well worth trying is The Grenouille at the top of the Super Morzine telecabine. We think they serve the best omelettes in the world! And their view is incredible.
Morzine Bars
The nightlife in Morzine is pretty varied with something for everyone. If you're looking for an early evening drink then head to the Coup de Coeur where you can watch the sunset from their outside terrace in the tourist office square. They have a great selection of wine and some delicious cheese platters. If you want to enjoy some live bands and music then you'll always find something happening at the Tremplin at the base of the Pleney. If you want to party late on into the evening then the main strip of bars is home to The Cavern, Tibetan and Cayotes, all which offer dancing and cocktails. There are also a nightclub in town if you fancy dancing into the early hours. You'll find Opera in the centre of town.
Self Catered Apartments
We have a range of smaller self catered apartments, sleeping up to 11 people, in the Morzine and Les Gets area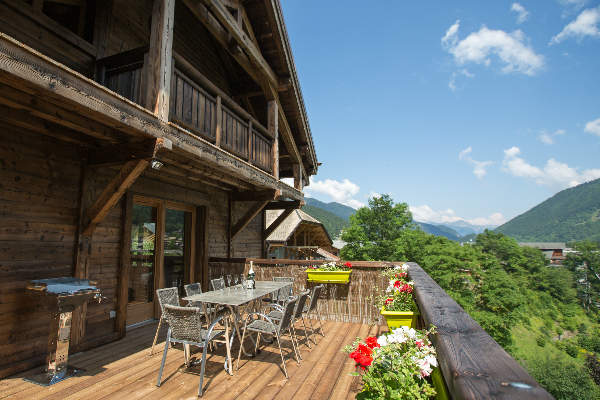 Self Catered Chalets
We offer a selection of larger self catered chalets in Morzine, sleeping between 12-15 people
Fantastic Activities Throughout The Summer