White water rafting is brilliant fun and anyone from the age of 7 upwards can have a go! Make your way down grade 3 and 4 rapids in an inflatable raft. The guides make the already exciting trip even more fun by encouraging you to jump off small cliffs half way down the river into the swirling water. They also get you to capsize and generally have a great time.
For those who have done a bit of rafting before, give the "rafting speciale" a go. It takes in 3 extra rapids at the beginning and lasts an hour and a half instead of the normal hour. For the even more adventurous, try the "rafting integrale". This is a full 2 hours on the water and takes you down some really challenging rapids further up the river.
As well as rafting there are two more adrenaline fuelled activities to try on the water: Hotdogging and Hydropseeding.
Hotdogging and Hydrospeeding
Hotdogging is much like rafting but but you are more in control (or not)! Rather then being on a raft of 8 people you are in an inflatable canoe which seats two people. You join a group of several "hotdogs" and set off down the rapids accompanied by a guide in his own canoe who will help you navigate a fun and safe route down.
For the really adventurous there is Hydrospeeding , wearing a padded wet suit, helmet, flippers and using a float you "swim" down the rapids under the watchful eye of the qualified guide.
For both Hotdogging and Hydrospeeding you must be over 14 and able to swim. We are happy to book any of these activities for guests staying in Reach4thealps accommodation.
Self Catered Apartments
We have a range of smaller self catered apartments, sleeping up to 11 people, in the Morzine and Les Gets area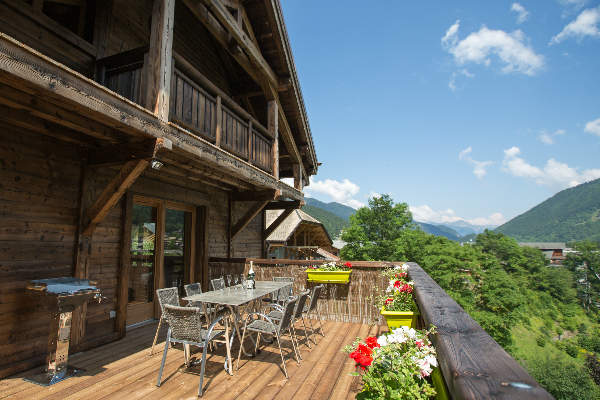 Self Catered Chalets
We offer a selection of larger self catered chalets in Morzine, sleeping between 12-15 people
Fantastic Activities Throughout The Summer